More and more people are choosing to have their teeth straightened as adults. They admire the perfect smiles of others who've had their teeth straightened, and want to enjoy that same level of confidence.
When they visit a dental clinic to learn more about tooth straightening, they find they have a choice of methods these days. They can either choose to wear traditional metal braces, or an Invisalign package. We'll look at the pros and cons of traditional braces and the Invisalign system, so you can make an informed choice.
There's also a price difference between Invisalign vs braces. We'll explain why Invisalign may seem to be so expensive over the cost of traditional braces.
Concept of Tooth Straightening
The time it takes to straighten your teeth varies according to how out of alignment your teeth are. The further out of alignment, the longer it takes to align them and give you a perfect smile.
Invisalign systems slowly move your teeth into alignment. The reason for a system of multiple aligners is that as your teeth start to straighten, the aligner must be changed to fit properly and continue the straightening process. Invisalign changes the shape of the aligners throughout the course of treatment. For most people, treatment takes 6 months to 2 years to complete.
For many people, having their teeth straightened solves a lot more problems than just having a nicer smile. Many people face tooth decay problems with teeth that are overlapping. Food can get stuck in the areas that are overlapping and be difficult or impossible to keep clean. By straightening the teeth, orthodontists make it easier to practice good dental hygiene.
Badly misaligned teeth can also cause significant jaw and neck problems and nagging pain. Straightening the teeth can be like a breath of fresh air when constant headaches and pain gradually fade away as the teeth begin to be aligned and pressure is eased on the jaw and neck.
Wearing Braces
For many years, braces were the only way to consistently straighten teeth and orthodontia was mostly undertaken when the patient was young. Nowadays, with more adults having braces, having a mouthful of metal can detract from a professional image.
Braces certainly have their drawbacks. Having braces means that people have to be thorough about their dental hygiene to avoid any decay with food becoming stuck in between the teeth and braces. Many people find they have trouble eating certain types of food that stick to the braces. They find themselves adjusting their diet and foregoing some types of food they enjoy.
Braces also mean periodic trips to the orthodontist to have the braces adjusted or tightened. Once the braces are removed, patients generally have to wear retainers for 4 to 12 months to keep their teeth in alignment. For a young person, the experience of wearing braces can seem like it takes forever.
However, the DAMON system of speed braces can significantly shorten the braces wearing period by using sliding brackets and a memory wire. This alternative arrangement reduces the amount of pressure that patients experience during the course of their treatment. The brackets and slide are set to continuously move your teeth into alignment, instead of only moving them when the orthodontist tightens them. This system can effectively align teeth in as little as 6 to 8 months.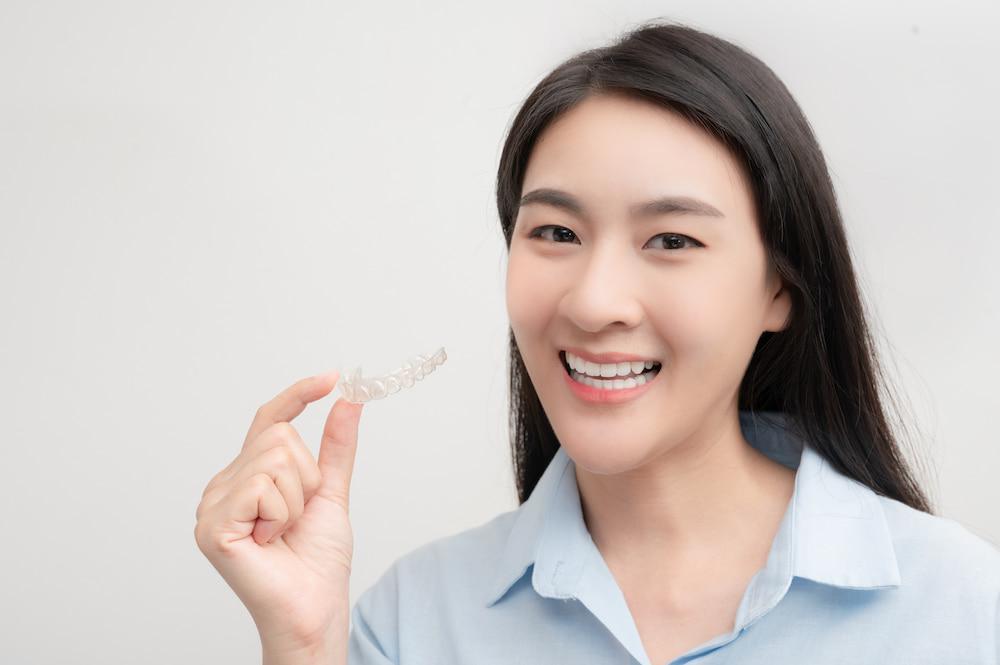 Investing in an Invisalign Package
Invisalign works a bit differently from traditional braces. The Invisalign price includes a series of aligners. These are clear, pliable polymer appliances that fit are custom-designed to fit over your teeth. Where braces wearers would have their braces adjusted periodically in the orthodontist's office, the Invisalign wearer simply changes to the next aligner in their package.
The reason why Invisalign may seem more expensive than braces is that you're paying upfront for the adjustments the orthodontist is charging you for every time you visit their office. Each Invisalign aligner represents a visit to the orthodontist that you don't need to make because of the convenience of the Invisalign system.
Invisalign Price vs Braces
For many, the decision between braces or Invisalign comes down to convenience and image versus price. People who want the least expensive option, live near their orthodontist, and don't mind the look, will likely choose braces as the best option for their needs.
However, some people love the flexibility that Invisalign represents. People who travel a lot, are in the public eye professionally, or simply may not want to wear the devices at all times, will invariably choose the Invisalign system over braces.
At About Tooth Dental Clinic, the price of braces and Invisalign will always depend on the amount of alignment you require. However, below is a general price comparison of both our braces and Invisalign services:
Metal braces cost THB 39,000-60,000
Speed braces (DAMON system) cost THB 69,000-99,000
Invisalign costs THB 69,000-250,000
Standard or clear retainers (for each arch) cost THB 3,000
Visit About Tooth Dental Clinic
If you're considering having your teeth straightened but are still unsure which system is right for you, make an appointment with About Tooth Dental Clinic for an examination and consultation. Our dentists will be able to give you a clear picture of the benefits of each system and help you make the best choice for your circumstances.
Call or email About Tooth Dental Clinic for an appointment today!